Yes, it is this time of year again for us. Long term support (LTS) release time! With the new Starburst Enterprise 370-e LTS, we are shipping the latest and greatest features for our customers, who also want the availability of security and correctness backports for the next year. It is upgrade time, and there are many good reasons to get onto 370-e.
In the recent STS releases 368-e and 369-e we added a number of great new features and updates. The most noticeable change is the new look and feel of the Starburst Enterprise web UI. Make sure to configure a query logger database to take advantage of query editor tab persistence, query history, telemetry data, and others. You can also start using the built-in access control system to grant privileges to perform actions on entities to your users, and deny access to others.
The most groundbreaking feature is data products. It allows you to abstract the complexity of your underlying catalogs, schemas, tables, and all those pesky details. You can define a data product for a domain, allow users to rate it, find it, and use it for their own reporting, dashboards, and visualizations.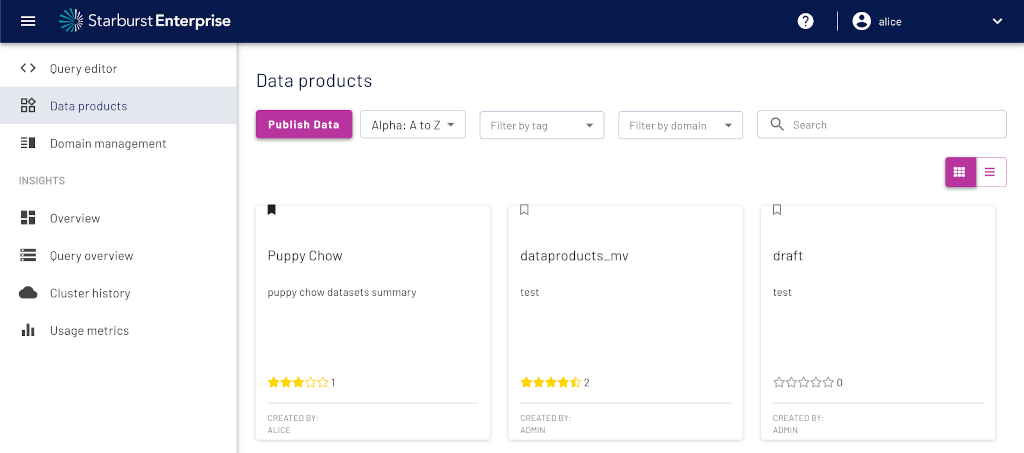 As data product owner, you can hide the details and allow your users to concentrate on what is useful and interesting to them. And of course, you can take advantage of the knowledge of other data engineers by using their data products. This enables great collaboration of domain experts, and unlocks even more understanding of all the data in your business.
We are steadily improving features for the next STS release, and look forward to hear your feedback. Explore and enjoy!
Manfred and Matt