Iceberg connector#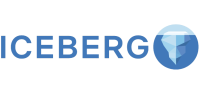 Apache Iceberg is an open table format for huge analytic datasets. The Iceberg connector allows querying data stored in files written in Iceberg format, as defined in the Iceberg Table Spec. It supports Apache Iceberg table spec version 1 and 2.
The Iceberg table state is maintained in metadata files. All changes to table state create a new metadata file and replace the old metadata with an atomic swap. The table metadata file tracks the table schema, partitioning config, custom properties, and snapshots of the table contents.
Iceberg data files can be stored in either Parquet, ORC or Avro format, as determined by the format property in the table definition. The table format defaults to ORC.
Iceberg is designed to improve on the known scalability limitations of Hive, which stores table metadata in a metastore that is backed by a relational database such as MySQL. It tracks partition locations in the metastore, but not individual data files. Trino queries using the Hive connector must first call the metastore to get partition locations, then call the underlying filesystem to list all data files inside each partition, and then read metadata from each data file.
Since Iceberg stores the paths to data files in the metadata files, it only consults the underlying file system for files that must be read.