Query overview #
Access the query features at any time from the Query section in the navigation menu. If the navigation menu is not visible, click to restore it. If the Query menu is closed click the expander arrow to open it then select the page you want to access.
The Query section is home to the following Starburst Galaxy features:
Query editor #
The Query editor pane offers an environment in which to write and execute SQL statements on any running cluster and its configured catalogs.
The following image shows the sub-panes of the Query editor, clockwise from left:
Saved queries #
The Saved queries pane allows you to view and reuse recent queries and editor tabs.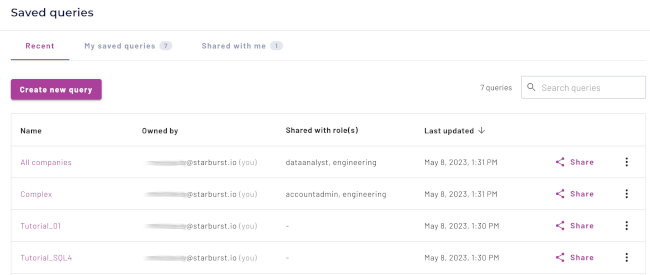 Query history #
The Query history pane allows you to view and inspect previous and current query executions. The queries you can see are limited by your current Starburst Galaxy role. By default, you can see any queries launched by your current login name. If you have accountadmin rights, or are assigned to a role that has the view all query history privilege, then you can see queries launched by all users with access to this Starburst Galaxy account.

Query details #
Click a Query ID in the Query history list to open the Query details pane for that query.
Is the information on this page helpful?
Is the information on this page helpful?